About L.O.V. Bunnies Rabbitry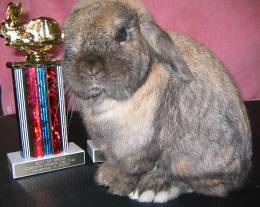 I started raising rabbits in 1978, the year after I graduated from Cal Poly University, San Luis Obispo. I received my degree in Horticulture, but in retrospect, I think I should have majored in Animal Science!
Back then, the US was not importing furs from Russia because of the "Cold War." There was a good market for domestic fur pelts. This was also before it was politically incorrect to wear real fur! I thought, "What a great idea. I can raise Rex rabbits, sell the pelts, and keep the meat."
I had about 15 holes with standard Castor and REW Rex. I had read books on how to butcher and how to process the hides. I had stretchers, and I had contacted the local processor, S & M Fur Farms. (Always wondered about that name!) I had my first batch of juniors in prime, ready to butcher. The only thing I didn't have was the heart to kill them!
After that failed endeavor, I switched breeds. Several times. I raised Mini Rex, American Fuzzy Lops, Mini Lops, Netherland Dwarfs, Dwarf Hotot, Satins, and even had a few English Lops and two Angoras, Edgar (the REW) and Alf.

I was finally able to locate a breeder who had Holland Lops, and realized this was the breed I'd been looking for. I STILL hadn't discovered the show table! Not having kids, I assumed that rabbit shows were only for youth. I didn't know adults could show rabbits, too!

In 1993, my neighbor's daughter, who used to climb the back fence to come over and see my critters, joined 4-H. She started showing some of the bunnies I'd given her for "helping" me feed. (And then she got MORE bunnies. Her parents haven't talked to me since!) Nikki has gone on from bunnies to boys now, and is grown and gone. But that is how I began showing my Hollands. It's been all downhill, and an uphill battle ever since.

Of course, of all the breeds of rabbits I've raised, I settled on Holland Lops, one of the most difficult, challenging, and frustrating of all the breeds (both in breeding and in competition on the show tables.) And also the most rewarding, because when you DO get that "special one," the Holland described in the Standard, it gives you such a warm sense of accomplishment and pride that you want to get right back out there and start breeding those does!
I just love to see my babies popping their fat little heads out of the box, jumping and playing.....and nudging your hand.....it warms your heart!

Ardis
LOV BUNNIES RABBITRY
Menifee, CA
August 20th, 2000